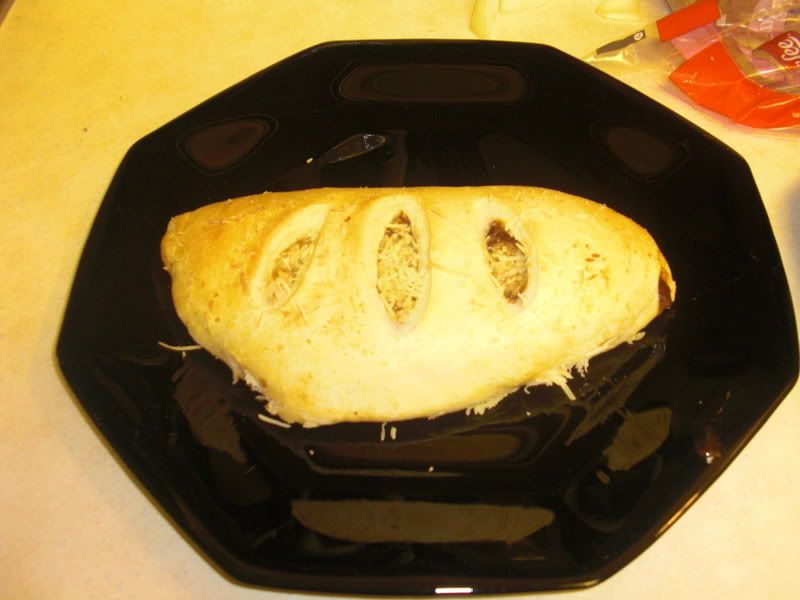 1 tablespoon cornmeal
1 large onion, halved and thinly sliced
3/4 pound boneless, skinless chicken breasts, cooked and shredded
1 cup barbecue sauce
2 tubes (10 ounces) pizza dough
1 cup (4 ounces) shredded, low-fat Cheddar cheese
1 egg white, lightly beaten with 1 tablespoon water
PREPARATION
Preheat the oven to 375°F (190°C).
Coat a baking sheet with nonstick spray. Sprinkle with the cornmeal. Coat a medium nonstick skillet with nonstick spray. Set over medium heat. Add the onion. Cook, stirring occasionally, for 5 to 7 minutes, or until soft. Add the chicken and barbecue sauce. Stir to mix.
Turn the dough out onto a lightly floured work surface. Divide into 4 equal pieces. Roll 1 piece of dough into a 7-inch circle. Place 1/2 cup of the chicken mixture on one side of the circle, spreading to within 1 inch of the edge. Sprinkle with 1/4 cup of the Cheddar. Brush the edges of the crust with some of the egg-white mixture. Fold the circle in half. Pinch the edges to seal. Repeat with the remaining dough and filling to make a total of 4 calzones.
Transfer to the prepared baking sheet. Brush the calzones with the remaining egg-white mixture. With a sharp knife, make 3 slashes in the top of each calzone.
Bake for 20 to 25 minutes, or until the crusts are golden brown. To serve, cut each calzone in half. These are incredibly delicious... and easy to make!