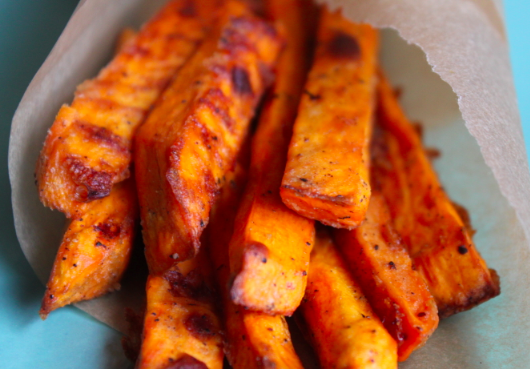 I have been trying to find an amazing recipe for sweet potato fries for YEARS and finally found one that I absolutely LOVE thanks to Pinterest! Y'all have no idea how excited this girl is! Guilt free snacking? Yes, please!
- 2 sweet potatoes (I used 3 to feed my family of 5)
- 1 tbsps olive oil (plus a little more for brushing the parchment paper)
- Put baking sheet in the oven to heat up by itself for about 10 minutes. This is a necessary step in getting them crispy.
- Cut sweet potatoes into thin sticks.
- Whisk together egg white, olive oil, salt, pepper and garlic powder in a bowl. Put sliced potatoes in the bowl and coat well with mixture.
- Brush a piece of parchment paper (large enough to cover the baking sheet) with olive oil.
- Put the parchment paper on top of the already-hot baking sheet. Bake for 12 minutes and then flip the fries oven with a spatula and bake for another 12 minutes (or until desired crispiness is attained).